The Alden B. Dow Center for Creativity & Enterprise
...Inspiring creativity in enterprise to drive human progress
Vision
The Alden B. Dow Center for Creativity & Enterprise integrates creativity and free enterprise through intentional and mindful cultivation to realize inventions, innovations and new business opportunities in entrepreneurship and family enterprise.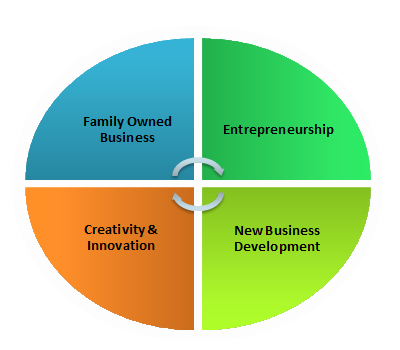 Focused Expertise
"In early 2012 all Northwood University alumni were surveyed. 34% of the survey respondents own part or all of their own business and 58% consider themselves entrepreneurs."
The Center focuses on four areas:
Family Owned Business
Entrepreneurship
Creativity & Innovation
New Business Development
This focused expertise allows the Center to provide cutting-edge leadership in the integration of free market creativity, innovation and strategy with entrepreneurial and entrepreneurial practices.
Through the Center, businesses and organizations can access creative and strategic free market tools for business and have the opportunity to renew existing businesses and build viable new enterprises. To facilitate this work, ABDCCE spearheads collaboration with global entrepreneurial support organizations and actively participates in the global academic communities focused in these areas. Further, the Center leads the creation of relevant training modules, workshops, seminars and "must attend" global events, both physical and virtual.
The Center is a think tank for businesses and entrepreneurs, providing tools, expertise and programming and internships to effectively empower today's students to creatively address tomorrow's business challenges. The Center's events and programming consistently include the integration of entrepreneurial creativity and innovation dimensions. The Center hosts seed-fund business startup competitions, concept development workshops, and one on one student support from entrepreneurs in residence, creating a network where student's entrepreneurial ideas for enterprises can be supported and accelerated.
Alden B. Dow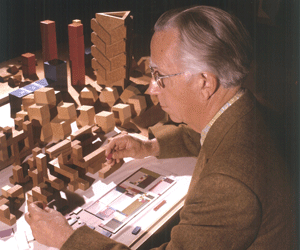 Alden B. Dow
(1904-1983) was born in Midland, Michigan, on April 10, 1904, the son of Grace A. and Herbert Henry Dow, founder of The Dow Chemical Company. He studied mechanical engineering at the University of Michigan and earned a degree in architecture from Columbia University in 1931.
During the summer of 1933, young Mr. Dow studied and worked with Frank Lloyd Wright at Taliesin in Wisconsin. In Wright, he found a kindred spirit. Their sharing of interests strengthened Mr. Dow's own work and philosophy.
Returning to Midland, he opened his own architectural offices in a studio/home of his own design. Today, the firm is known as Dow-Howell-Gilmore Associates, Inc.
During his career, Mr. Dow was commissioned to design homes, churches, schools, college campuses, business complexes, art and civic centers and the entire town of Jackson, Texas. His home designs, which were especially appealing to the aesthetically sensitive, earned him 60 commissions in Midland, Michigan, as well as numerous others across the United States.
Among his many awards and honors, Mr. Dow received the 1937 Diplome de Grand Prix for residential architecture. He was named a Fellow in the American Institute of Architects in 1957. Northwood University conferred an honorary doctorate on him in 1969. In 1983, crowning the achievements of his 50 year career, Mr. Dow was named architect laureate of his home state of Michigan.
Alden B. Dow maintained a lifelong interest in creativity. His selection in 1982 as the first recipient of the Frank Lloyd Wright Creativity Award reflects this enduring commitment.
Way of Life Cycle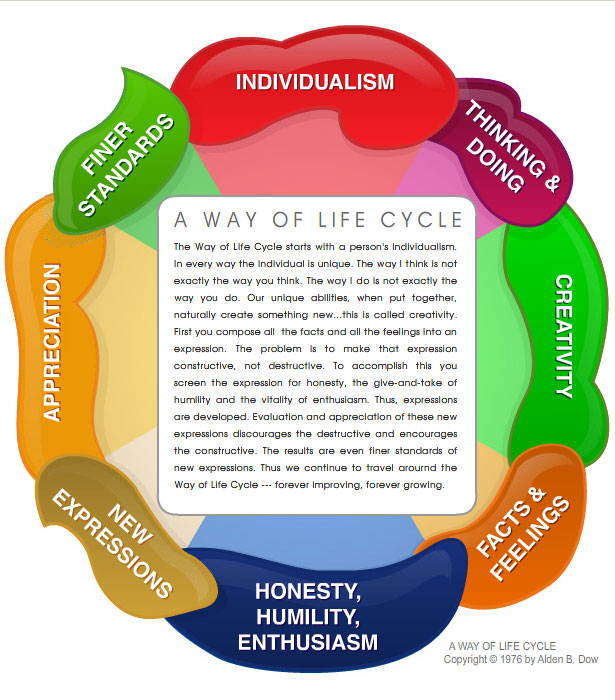 Writings on Creativity By Alden B. Dow
"An Architect's View on Creativity." Creativity and its Cultivation. Harold H. Anderson (Ed.). New York: Harper and Row, 1959. 30-43.
"Appreciating Architecture." Appreciating the Nine Fine. William G. Harkey (Ed.). Midland: Northwood Press, 1977. 17-37.
Reflections: Midland. Northwood Press, 1970.