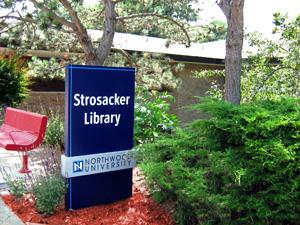 Strosacker Library, Michigan Campus
For more information click here.
Collection
The library's collection is comprised of resources in multiple formats, both print and digital, as well as the tools required to access those resources.  The Library's circulating collection consists of books, newspapers, magazines, reserve items and DVDs.  The Library's non-circulating collection consists of reference materials. 
Suggestions by students and staff for acquisition of resources are welcomed and encouraged, and are reviewed by the same standards as are requests from all other sources.
Collections for specialized curriculums on the Michigan campus include:
Accounting
Advertising
Automotive
Entertainment Sport & Promotion Management
Entrepreneurship
Fashion
Finance
Hotel & Restaurant Management.
---
Online Resources
Together, the libraries have over 35 databases to utilize.  Ranging from comprehensive business related information from such resources as Business Insights Global, to legal services such as Lexis Nexis, to financial databases such as Valueline and Morningstar.  Our databases are varied and cover many topics you may need.
---
Additional Academic Support
Databases are not the only way we assist you.  We have many other services, both online and on campus.  A few of these services include:
Research assistance from reference librarians
A LibGuide which is a web-based research guide that can help you get started on your research.  Several have been custom-built by librarians for classes and topics featuring books and digital resources pertinent to that content area.
The library keeps several copies of the current Omniquest reading selection.
Ask-A-Librarian is a feature that allows you to send a question to a librarian 24/7.
Online library card sign up
Interlibrary Loan
Reserves
---
Access
All library services are accessible via Blackboard.  To get started, login with your user name and password:  https://my.northwood.edu.  Click on the Library Tab to see the library's resources