This program is accredited by the Accreditation Council for Business Schools and Programs (ACBSP).
Request Information
Locations Offered
Residential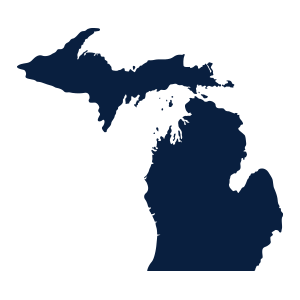 Offered in Midland, Michigan
---
Adult Degree Program
* Some or all major coursework is only available online
The demand for car parts and service will always be there. Northwood University offers a BBA degree in Aftermarket Management and our graduates account for a great supply of talent in the industry. This means that you'll be highly desired by employers upon getting your degree. It's no wonder the employment rate for this major is almost a perfect 100%. (Your economics teacher wasn't joking about supply and demand.)
The automotive aftermarket includes any addition, enhancement, or repair to a vehicle after the initial purchase. So whether it's a mom who needs headphone jacks installed to save her sanity, or a teen trying to impress his friends with infinite decibels, the aftermarket industry makes it happen.
What if I'm not a "car person?"
Maybe you're not a "car person," but you can appreciate a nice vehicle whether its look is strong, luxurious, or sporty. You might even like to hear it purr like a kitten or growl like a beast. To us, you're a "car person" if this is exciting to you. While our program is centered around the automotive industry, its primary focus is on the business management aspect of it. So even if you're less concerned with cars and more concerned with a little thing called job security, you've found the right industry.
A Degree that Works
Many of our graduates are top executives at some of the most prestigious companies in the United States. If you want to talk to some of them to learn their secrets of success, we can arrange that. They still have ties to Northwood and are proud to have started their careers here.
Take a look at the partial list of where the Aftermarket Management degree has taken our graduates. We apologize for how lengthy it is. Wait... no we don't.
ACDelco
Aerotek Automotive
Affinia Group, Inc.
American Honda Motor Company
American Racing
Automotive Aftermarket Parts Alliance
Auto Value/Bumper to Bumper
Bendix BWD Automotive
Clevite Engine Parts
Dana Engine Management
Delphi Automotive Systems
Dorman Products
Eaton Corporation
Epicor Software Corporation
Exide Technologies
Federal-Mogul Corporation
Ford Motor Company
Gates Corporation
Grote Industries
HALSCOTT Consulting, Inc.
Hendrick Automotive Group
K&N Engineering, Inc.
Krupp Bilstein of America
KYB Americas Corporation
MagnaFlow
Martin-Senour Automotive Finishes
Meguiar's
Muskegon Brake & Distributing Company
NAPA Auto Parts
Old World Industries, LLC
Penske Truck Leasing
Precision Turbo & Engine
R.L. Polk & Co.
Roadranger Marketing
Saint-Gobain
Sherwin-Williams Automotive Finishes
Tenneco
Truck-Lite Co, LLC
U.T.I.
Education in Action
In case you missed it, our employment rate averages nearly 100%.
Northwood is home to North America's largest new vehicle, outdoor auto show. It's entirely student-run and draws an average of nearly 50,000 attendees each year.
Our 10-week internship program will give you industry experience before you graduate. You should probably laminate your resume—employers tend to drool.
Like John Wilson who landed an internship with Vipar HD to work with them in all aspects of Heavy Duty Aftermarket Week (HDAW)
You could have the opportunity to attend AAPEX/SEMA, one of the world's largest automotive trade shows held annually in Las Vegas. This is where many of our students get their first job offers.
Another great educational and networking venues is GAAS. About 400 of the industry's top executives attend this annual convention held in Chicago to learn what is happening in the aftermarket sector. The speakers are not only from some of the top companies in the aftermarket, but also from other industries that touch the marketplace such as Google, the car manufacturers, and top research companies such as R.L. Polk, J.D. Power, and Frost & Sullivan.
The Automotive Group (TAG) is a club on the Michigan campus for hardcore automotive enthusiasts from the Aftermarket Management program and its counterpart, the Automotive Marketing & Management program.
An intensive capstone project during your senior year will give you the opportunity to draw up a business plan for a viable automotive parts business, covering every aspect of the company. To top it off, you get to pitch it in front of industry professionals.
You may also want to note and check out our University of the Aftermarket for working professionals.
Read the Q&A on Alternative Fuel Systems with Dr. Timothy G. Nash in Aftermarket Business World